FAQ: Frequently Asked Questions about Making a Recipe Card Cookbook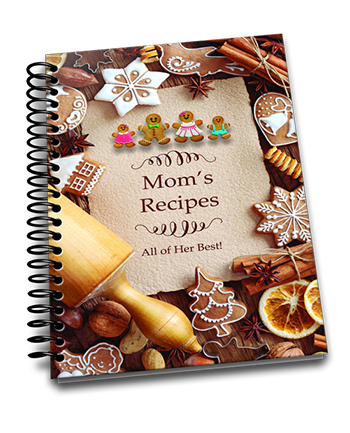 If you have a question that can not be answered below, you can contact us here...
How much does it cost to print a cookbook?
The minimum print order is only 1 copy (most other printers require at least 25). The cost of each cookbook depends on how many pages it has. Most cookbooks average two single-sided recipe cards per page. A single 50-page cookbook starts as low as $19.95!
Can I see a sample recipe card cookook?
Sure! Click here to download a PDF sample book of one of our mom's recipes. Note: these images are low resolution for quick download - your printed book will be clear and sharp.

How many recipe cards can my cookbook have?
You can have unlimited recipe cards uploaded to your account and select only those you love the best to be included in your printed recipe card cookbook.

Can I scan the recipe cards instead of photographing them?
You can either scan or photograph the recipe cards to be included in your recipe card cookbook. Many people prefer scanning the recipe cards because of a more consistent result. Make sure you save the files as image files, like JPEG and PNG, and not PDFs. You can not upload PDFs to your account.

Is there a fee for using this site?
There is no fee for using this site to organize your recipe cards into a printed cookbook.  You only pay for the cookbook printing based on the number of pages in your cookbook.

How is this site different than FamilyCookbookProject.com?
Both sites use the same underlying cookbook design system. RecipeCardCookbook.com is stripped down in order to make the process of making a cookbook from uploaded recipe cards as simple as possible. FamilyCookbookProject.com is a full feature cookbook design system and features multiple contributors, additional design elements and other tools not available on RecipeCardCookbook.

How do I edit the image of the recipe cards?
Most people will edit the recipe card image to eliminate the background and included just the recipe card directly on their phone while taking the picture. However, our comprehensive system also includes a powerful photo editing tool to allow you to crop your photos after they are uploaded as well.

What needs to be entered into your program for each recipe?
Along with the uploaded recipe card, each recipe title needs to be typed into the system and a recipe category selected. You also have the opportunity to include contributor names, ingredients and directions if you wish.

Can I include typed ingredients and directions?
Yes, if you wish, you can type out full ingredients and directions from the recipe cards to make them more readable.

Can a recipe have multiple cards?
Yes, each recipe can have up to 4 recipe cards displayed. A maximum of three 3-x5 recipe cards will fit on one cookbook page.

Can I include other photos that just recipe cards?
This is your cookbook and you can include other photos if you wish either in the recipe section of the cookbook or in the introduction.

Can I design my own cover and dividers?
RecipeCardCookbook.com offers more than 60 professionally designed cookbook covers for you to choose from and more are being added all the time. If you wish, you can design and upload your own cover as well.

Can other family members add recipe cards?
No, in order to keep this software simple, each account is limited to one individual. If you wish to include multiple people to enter recipes, please use our FamilyCookbookProject.com site.

Do you share my recipes with anyone?
No, your recipes are only used in your cookbook. They are not available online. If you would like to use your recipes online as well, please use our FamilyCookbookProject.com site.

What happens after I print my cookbooks?
We will keep your account and recipe cards on our system in case you wish to reprint your cookbook in the future.

Do you edit my cookbook for me?
No. You as the Editor of your cookbook is responsible for all the cookbook content and approves all final text prior to going to press.

Who started Recipe Card Cookbook?
This website was developed by two high school friends who both love cooking and food. Bill Rice is the father of four and has worked on his family's genealogy for more than a decade. Over a wonderful summertime family meal on Cape Cod, Bill and some of his family decided to create a family cookbook. Bill turned to his long time friend and programming expert Chip Lowell to develop a simple website to facilitate the project. The site was such a hit with Bill's family, the two decided to offer it access to other families looking for an opportunity to create a lasting family heirloom.